#zulilyhome Twitter Chat tomorrow with home expert...
Bright colors, fresh flowers, days on the beach – there are more than a few reasons to get excited for summer, and to celebrate the upcoming season, we're collaborating with TV host and home expert Vicki Payne for a seasonal-themed, DIY-filled Twitter Chat!  Vicki is joining forces with zulily home buyer Alex Kanter for a fun conversation about organization, cleaning tricks and DIY projects to...
Check out the brand-new Pin It button in our app
Pinning from the zulily app just got easier! zulily is one of the first to have the brand-new Pin It button—update your zulily iPhone or iPad app to start using it. Now you can easily pin products directly from the zulily app to the Pinterest app with no extra steps or stops in between.  Just tap the Pin It button and you're automatically sent to the Pinterest app, where you confirm your...
What to Get Dad
With Father's Day just around the corner, we know you'll be looking for a way to express to express your love for him. Whether shopping for something to give your dad, granddad, children's dad or a dad-to-be, it can be tricky coming up with a gift that's unique, special and will make them feel appreciated. That's why we've already done the searching so you can...
Talking with Authors: Children's Book Week
Children's Book Week is the longest running literacy celebration in the nation! We at zulily are happy to participate by gathering together a new selection of books each day this week, focused on different age groups. To celebrate, zulily sat down with authors Kim Baker and Terra Lynn Childs, and illustrator Sara Anderson to talk about how they got their start in the literary world and the...
2 tags
2 tags
2 tags
2 tags
#mymomis amazing! Celebrate Mother's Day with us.
Here at zulily, we know moms are amazing. Incredible. Absolutely splendiferous. Moms are superheroes! But what's the one word you'd use to describe your mom? What's the one word your kids would use to describe you?  This Mother's Day, we're celebrating all that moms are with something called my mom is. It's a chance for each of us (kids and grown-ups!) to...
#zulilytoddler Twitter Chat tomorrow!
Parenting coach Rachel Sklar (@ViaParenting), zulily (@zulily) baby gear buyer Debbie Licolli and HLN's Raising America host Kyra Phillips (@KyraHLN) are joining forces for a toddler-themed Twitter Chat tomorrow!   On April 23 from 1-2 p.m. EST, meet zulily and the rest of the expert panel over on Twitter to celebrate the zulily sale of Sklar's parenting CD, Rock Your Inner Mama. Sklar and...
We want to see your #zulilycutie!
Where can I send you photos of cute zulily clothes in action? We'd love to see them! Share your photo with us on Instagram. Make sure you follow @zulily and use these two tags: #zulilycutie @zulily   What if I don't have Instagram? You can always share photos with us on our Facebook page or on Twitter as well. Make sure to use the #zulilycutie hashtag. Or, email us at...
National Autism Awareness Month
­­ We continue to look for ways to share valuable information with our members. April is National Autism Month so we thought we'd bring you some information from an autism expert. Educational Insights connected zulily with Terri Chew Nishimura, CEO of the Pediatric Therapy Network, to talk about the history of the month and the need for education about autism. zulily: What is National Autism...
Go barefoot! One Day Without Shoes 2013
Join TOMS and people around the world for One Day Without Shoes 2013. Go barefoot Tuesday, April 16th, and help bring global awareness to children's health and education.  Why take off your shoes? Access to footwear plays an important role in improving children's health and education. Shoes can complete a uniform required for school attendance and protect little feet from danger and...
Healthy Chocolate "Milkshake" from the Yummy Mummy
  We have a special treat for you – the secret to a healthy chocolate "milkshake!"  Marina Delio, mother of two, blogger at The Yummy Mummy Kitchen and author of a new book of the same title, has shared the perfect recipe for moms who want to get some extra nutrients into their kids' diets. Be sure to check out our Fun Family Cooking Books event which launched this morning 4/9 to get Marina's new...
1 tag
1 tag
1 tag
#zulilynurserystyle Recap
Did you miss the #zulilyNurseryStyle Twitter Chat last week? Well today we've got highlights from the online Q&A, plus host and nursery bedding designer Jenny McCarthy's fashion tips for you! What was your inspiration for the Too Good nursery line? @JennyMcCarthy: The inspiration was to make great, safe, fashionable bedding that all mothers could afford Q1: What are some creative accents to...
2 tags
2 tags
#zulilyNurseryStyle Twitter Chat
Jenny McCarthy wears many hats – from TV host and comedic actress to autism research activist and mother – but in her latest role, she's channeled her talents into a successful line of nursery bedding, Too Good. zulily is collaborating with Jenny for a sale, beginning tomorrow, March 15, and to celebrate, we're throwing a nursery-themed Twitter Chat this Friday! Joining her for the live Q&A...
#zulilymaternitysyle Twitter Chat
Last Friday we brought together an expert panel for zulily's maternity style Twitter chat, and in case you missed out on the fun, we've recapped the chat for here. Check out what our hosts – clothing designer/TV personality Rosie Pope, zulily maternity apparel buyer Robin Propst, American Baby magazine editor Jessica Hartshorn and Hollywood Hot Moms co-founder Natalie Klein – had to say. Q1: What...
Maternity Fashion Week Twitter Chat...
To celebrate Maternity Fashion Week here at zulily, we're throwing a fashion-forward Twitter Chat this Friday and inviting a coveted panel of experts to answer all your burning style questions. Joining us will be zulily maternity apparel buyer Robin Propst (@zulily), maternity clothing designer and TV personality Rosie Pope (also tweeting from @zulily), American Baby magazine editor Jessica...
Maternity Fashion Week: Styling Tips
It's Maternity Fashion Week at zulily, so we caught up with Robin P., Maternity Apparel Buyer, to get the details.  Tell us about your job! It's my job to find maternity brands big and small and bring them to zulily moms at a great value. I scour the planet to find products that they can't find anywhere else.   Why did you want to create a Maternity Fashion Week? I wanted to...
the newbie: the best advice
By Melissa Walker, who can also be found blogging at melissacwalker.com When I was about to become a new parent, the advice flew at me from all sides: Sleep when the baby sleeps, say yes when people offer to bring you dinner, get blackout blinds! All solid tips, by the way. And, now that June is 18 months old, I realize that one piece of advice, given by a long-time friend, stands above the...
8 tags
Behind the first ever zulily commercials!
zulily wants to celebrate childhood and the uniqueness of that fleeting time for every family.  At no other point can your kids twirl as fast as they can in a colorful tutu or transform into a pilot simply by putting on an aviator beanie.  This was our inspiration.   We invited kids of real zulily customers to be the stars of our first commercial-after all, we love our customers and don't...
The newbie: Parent Me vs. Me Me
By Melissa Walker, who can also be found blogging at melissacwalker.com Is it me, or does having a child feel like adding a full-time job to your full-time job? I know everyone does it and somehow makes it work… but I'm still trying to figure out how. As June nears her second year, my life sometimes feels like my own again. She has her schedule and I balance my own work around it with the help...
7 tags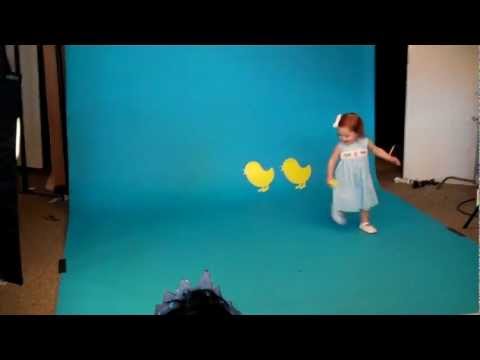 9 tags
the newbie: Individual Playtime
By Melissa Walker, who can also be found blogging at melissacwalker.com June recently inherited a dollhouse from a friend, and she is smitten. She loves the working doors, the ringing phone and the little people who she can move from bed to chair to kitchen. It's pure 18-month-old bliss! In fact, I've been able to leave her alone in her room while I'm right next door in myown folding laundry...
9 tags
the newbie: Meals for Tots
By Melissa Walker, who can also be found blogging at melissacwalker.com I always wondered why parents seem to carry around Goldfish and string cheese for snacking. I thought I'd be the one with healthy carrot sticks and avocados, which do make it into my bag sometimes but are usually eschewed for the above-mentioned crackers and cheese. Snacking issues aside, at 18 months, I can't...
#zulilybirthday Twitter Party!
Join @zulily, Michelle of @Printabelle and Jillian of @CatchMyParty for a Twitter Birthday Party to celebrate zulily's third birthday! Thursday 1/24, 3pm to 4pm pacific, bring your best 140-character party-themed questions, comments and insights to our #zulilybirthday! Whether you're looking for theme ideas for your little one's next birthday or a few tips on how to plan an unforgettable party on...
11 tags
It's All Personal
The search for ideal children's products started when I was pregnant with my first daughter. During that pregnancy, I read the book Healthy Child Healthy World: Creating a Cleaner, Greener, Safer Home by my co-founder Christopher Gavigan and learned about toxic chemicals in everyday products like baby shampoo, diapers, home furnishings and household cleaners. Of course, I was shocked and upset. ...
12 tags
the newbie: Car Seats
By Melissa Walker, who can also be found blogging at melissacwalker.com We don't drive often because we live in a city, but when we do take road trips— to the "big" grocery store, upstate for the weekend, over to Grandma's house—I would love for it to be a good experience for 17-month-old June. So far, that's not happening. We've had her seat facing backwards, as recommended, since her...
11 tags
the newbie: So Much Stuff
By Melissa Walker, who can also be found blogging at melissacwalker.com We have very generous relatives, and since June is the first grandchild on both sides, our 17-month-old did quite well this Christmas. The phrase "made out like a bandit" comes to mind. While that is awesome in lots of ways, it's also… overwhelming. Living in a small city apartment means we have to constantly be on top of...
10 tags
the newbie: A New Babysitter
By Melissa Walker, who can also be found blogging at melissacwalker.com One issue I regularly have is that I have to wait for my husband to get home before I can head out. By the time he gets home, I'm meeting friends for dinner at 8pm or later… and that's just too close to my bedtime for my liking! So recently I met a college student who lives nearby and babysits for some of our neighbors....
7 tags
Pumpkin Pie IN a Cupcake? Yes, Please.
Seriously…pumpkin pie inside of a cupcake. Sunday 12/16, zulily will host the Creative Cupcakes Collection with up to 50% off everything needed to transform your kitchen into a bakery brimming with the most delightful and darling cupcakes around. This party-perfect collection includes recipe book Bake It in a Cupcake by blogger extraordinaire Megan Seling of www.bakeitinacake.com.  Megan's given...
13 tags
the newbie: Winter-Wear (or Not to Wear!)
By Melissa Walker, who can also be found blogging at melissacwalker.com I have a very serious question: How the heck do you get winter gear to stay on a 16-month-old? Maintaining possession of June's mittens and hat when we go for a stroll is tougher than keeping track of Barbie's tiny shoe sets. She flings them off, dropping them on the sidewalk while gleefully shouting "All done!" when...
10 tags
the newbie: TV Time
By Melissa Walker, who can also be found blogging at melissacwalker.com I've read a lot about how kids under two years old shouldn't have "screen time," which I guess means TVs and iPads, etc. June is almost a year and a half, and she gravitates toward our devices. The phones and the iPad are pretty much game consoles for her, and she loves to watch videos of various performers singing "Old...
7 tags
the newbie: Food Drama
By Melissa Walker, who can also be found blogging at melissacwalker.com Baby June has been a good eater since she started solids, mostly chomping away happily at whatever we put on her tray. Berries, pasta, eggs with spinach… even Chicken Tikka Masala has gone down with ease. Until now. Suddenly she's refusing lots of dishes, seemingly at random. One day at lunch she'll try a bite of macaroni...
8 tags
the newbie: Toddler Hair
By Melissa Walker, who can also be found blogging at melissacwalker.com I have a confession: I don't want to cut Baby June's hair! While many of her friends are still bald, she has a lovely head of wavy brown hair that I just adore. Last weekend, she met her little cousin Clara for the first time, and Clara was obsessed with June's curls, pulling at them every chance she got! The thing is, her...
7 tags
Shopping for My Girl
By Allison Slater Tate, who can also be found blogging at allisonslatertate.com/ When my first baby was a boy, my husband breathed a sigh of relief – not because he didn't want a girl, but because he was under the (somewhat mistaken) assumption that I would spend less money buying clothes for a baby boy than I would for a baby girl. I swear I'm not a completely shallow person, but I love me some...
7 tags
the newbie: Late Walkers
By Melissa Walker, who can also be found blogging at melissacwalker.com June is almost 16 months old, and she's still crawling. She stands up regularly, takes a step or two when encouraged (sometimes), but mainly she thinks the whole walking thing is overrated. This means a few things for me: First, her clothes are all insanely dirty. Muddy pants, sloppy sleeves, shoes that look like they've...
11 tags
the newbie: Volunteering with Kids
By Melissa Walker, who can also be found blogging at melissacwalker.com Our beloved New York City got hit very hard with Hurricane Sandy, but luckily we live on high ground in Brooklyn and our neighborhood was spared the brunt of the storm. We feel so lucky to have power, water and dry floors, and we're looking for ways to help our neighbors deal with the destruction they've faced. This...
5 tags
3 tags
8 tags
zulily/Julep Tuesday #Twitter Party!
Click to see today's Julep offering on zulily now! Join @zulily and @JulepMaven for a Twitter Party in celebration of zulily's Julep event, which will be filled with a rainbow of toxin-free nail colors, plus hand and nail treatments. Today, 10am to 11am pacific, bring your best 140-character questions, comments and insights to our Julep Maven Twitter Party! Whether you're a...
5 tags
12 tags
the newbie: Halloween!
By Melissa Walker, who can also be found blogging at melissacwalker.com I know that, at 15 months, June is too young to remember this Halloween. But still, how can we resist dressing her up and taking her door to door? My husband is getting out of work early on Wednesday, we're bundling up our baby girl in a strawberry outfit that's cozy and cute, and we're collecting candy! (Whether June gets...
14 tags